We volunteer for a local dog rescue. As you might remember that is how Ben fell in love with Chihuahuas and we got Kerrigan. Well down on their luck chis are sort of our soft spot over here. I saw a picture of this girl and I immediately offered to foster her (can you guess why?). Funny thing is the picture said she was a he, but that is neither here nor there. It turns out that this girl and her two dead puppies were found in the back of a tire store where they had been living for at least a few weeks. She was caught and brought to a vets office but they were filling up for holiday boarding and she needed somewhere to go. The rescue warned me that she might be a runner and to watch my front door so I knew she might be a bit scared, but when I showed up I saw the most frightened chihuahua I have ever seen in my life. This little girl is just a shaking pile of defeated dog. From the way she acts at home it is apparent she has never lived in a house before and everything scares her.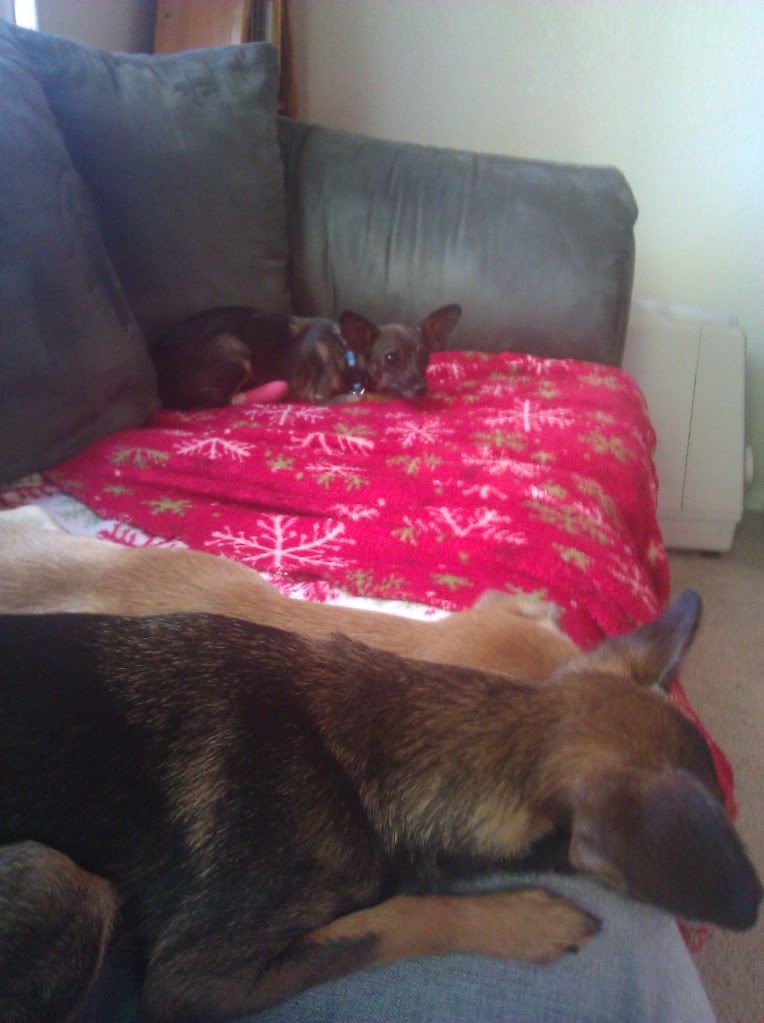 The far dog is Nova
I knew immediately she was not a foster dog, she was a forever dog. She needs a home with stable dogs her size, no children now or ever, a person who is home a lot, and owners with lots of dog experience. She needs a secure yard and no access to the front door, and while money is not everything she could certainly use someone who can afford a behaviorist and later group classes. She needs a home where everyone in it is 100% on board and all of the family members love dogs, and people who realize it may be years or never before she is confident enough to be in a busy place. How many homes are like that? Mine is so she is staying. Nova has been let down for the last time. The people who she learns to love next will be the ones she grows old with.
I realize you can not rescue every dog. I have let many fosters I love dearly, some even with special needs, go to their forever homes so I can do it. I can recognize that dogs need our help not our pity and that being a foster failure means I can help less dogs in the future but Nova is special. She is ours.