I may have talked about them before, but I just LOVE an Etsy store called
The Mad Stampers
. Their tags are cute, they hold up (a few we have are going on 18 months old and still look great), they are about the same price as the machine at Petco but better and they make really small tags that are perfectly sized for my chis. I just got a new tag for Nova's buddy belt (pictured above), a different style than I have tried before and I had to share how happy I was with it. I love how easy to read it is and the unique shape! This tag is one of their regular sized ones and too big for a chis neck, but it fits perfectly with her rabies and home again tag on the harness (I ordered a big one on purpose because I wanted it to look ok with the giant rabies tag she has). Nova has a collar tag from the mad stampers too, here is a picture of her proudly displaying it after obedience class on Wednesday. Just to give you an idea that tag is over a year old and still looks great.
Kerri and Copley have their tags too, here is a shot of Kerri and Nova's tags right after I got them. I love the selection of charms and styles they have! Kerri got a flower because she is our fragile little flower, and Nova got the double heart stamp because she has two little angel puppy hearts watching out for her. The price is great too, Kerri's was $9 and Nova's was $10.
Finally here is Copley's tag. I love how rustic and adorable it is! Plus his is bigger and fits like 4 lines of text on the back of it, legibly!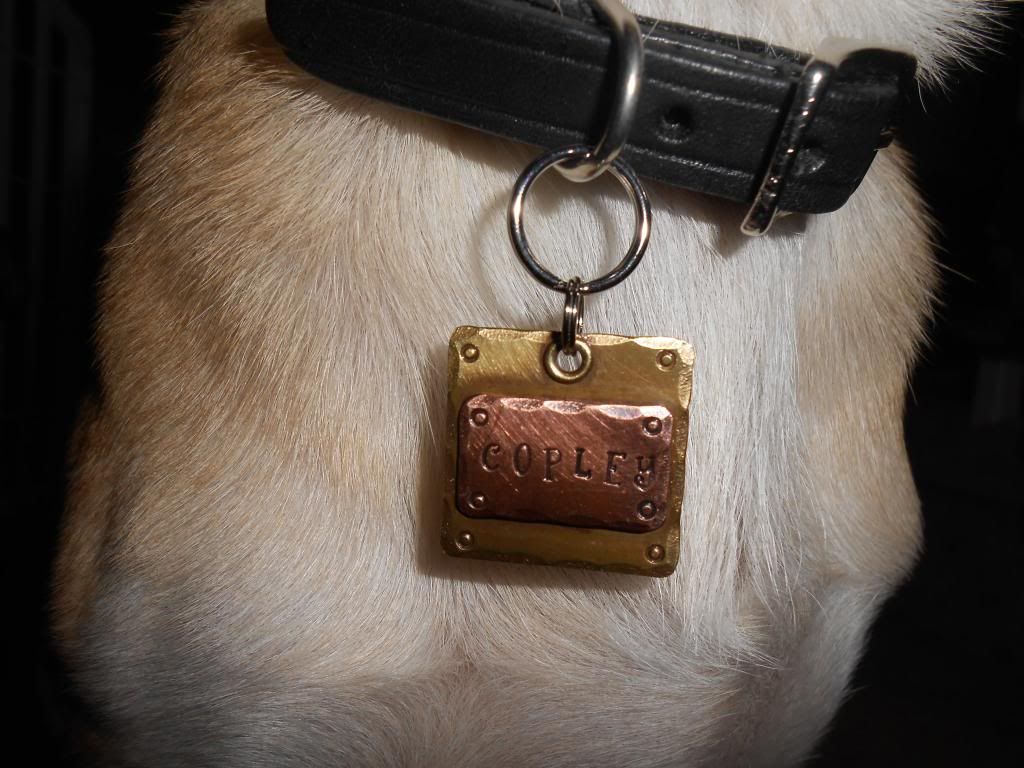 So if you are looking for a tag, you should order from
The Mad Stampers
, they are amazing.
P.S.- I was not compensated in any way for this review, I paid full price for everything I bought and they don't even know I am a blogger. I just LOVE them.