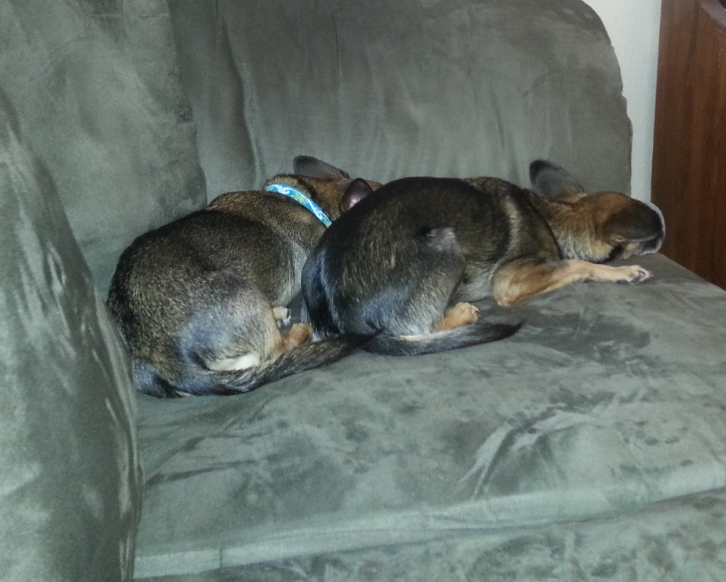 Identical twins from behind
This week my parents, aunt and grandfather were all in town. They didn't stay at the house, but they visited lot and we had a few meals here. I was a little bit worried to start with that it would be a lot to have this many people over for Nova. Well I am happy to report that it went amazingly well. Nova did not bark or growl at any of the guests ever. She was a little skiddish, as normal, and she did not allow anyone to move towards her, but on her terms she let everyone pet her. A few people pet her under the chin, a few on the back and a few even got to rub her chest a little bit. I was beyond amazed at how well she did.
In other good news it is starting to be a comfortable temperature out at a reasonable hour of the day. For oh so many reasons that is a good thing, but in particular it is going to give me the opportunity to work with Nova outside a little bit. She has been reluctantly following me and Kerri down the block as long as nothing crazy happens along the way, but is no lover of the world outside my house and backyard. My goal for this month is to make her like the outside a little more. Since her highest value activity is clicker tricks I have decided every day we are going to go out on the leash, but only to the concrete step by the door. There we will do our regular clicker training session then go inside. I am hoping that this will make the outside a little more fun for her.
Our first session was a success by Nova standards. She walked out the door because I had the clicker and a bag of treats. She was very overwhelmed by the idea of listening to me outside but did "touch" for a click and a treat twice. Then the neighbor opened their garage door and it was a bit of a disaster. I had about 5 bits of treats left in my hand so I just said her name and she got a click for looking at me. I only got brief glances but by treat number five she was excited about the click and not just concerned about being outside so we called it a day and went back in. The whole session was less than two minutes. Slow and steady is going to win this race.