If you have been around these parts for a while you know we LOVE to visit Big Bear Lake California! Check out one of our previous trips
here.
This time we brought some friends and had a BLAST. The cabins we stay at are very dog friendly. The owner has two dogs and unlike a lot of other "dog friendly" places- you don't feel strange hanging out with your dog here. We had a boxer a few doors down, two border collies next door and the owner was always happy to see our little guys. If you are ever staying in Big Bear I could not recommend
Cabins for Less
any more. They are the best place to stay- you certainly should check them out.
The other great thing about Cabins 4 Less is that they have super cheap kayaks if you are staying there! We took Copley and Kerri out on two and it was a lot of fun. We started with both dogs in our Kayak, but as you can see Copley soon decided we were boring and spent most of his trip on the other Kayak. You can see him sitting with our friend Paul looking very majestic. Kerri- in her typical undecisive manner wanted to get over on the other kayak- then when we got too far away from each other she wanted back. Then she wanted back to the kayak Copley was on. Since we try not to let our dogs be totally insane around guests we made her stay on our kayak and calm down. Eventually she got the picture.
One thing that surprised me is that a lot of people commented on the dogs life vests. In fact more than one person said "what, dog's can't swim these days?" It was a little annoying to hear over and over that we were crazy to put life jackets on our dogs. The thing is our dogs can swim. Without a life vest they can actually swim pretty well. But these are tiny dogs in a huge lake. Even if they were great swimmers- if there was an emergency would they really be able to find where shore is and make it all the way there? Also Kerri is literally the color of lake water- so without a life vets how would I find her if we were separated. Maybe the passer byes were right- and I am some crazy dog lady. I tend to think that life vests are a good idea for pets, children, and any other person who can't make it to shore immediately if we were to be dumped in the water. Maybe that makes me nuts- you decide.
Now I know I am nuts because I always get the dogs an ice cream at the gas station on the way there. It is our typical road trip tradition. This time they got to lick the vanilla center out of a ice cream sandwich. Nova enjoyed some too but preferred to stay in her carrier at the busy gas station.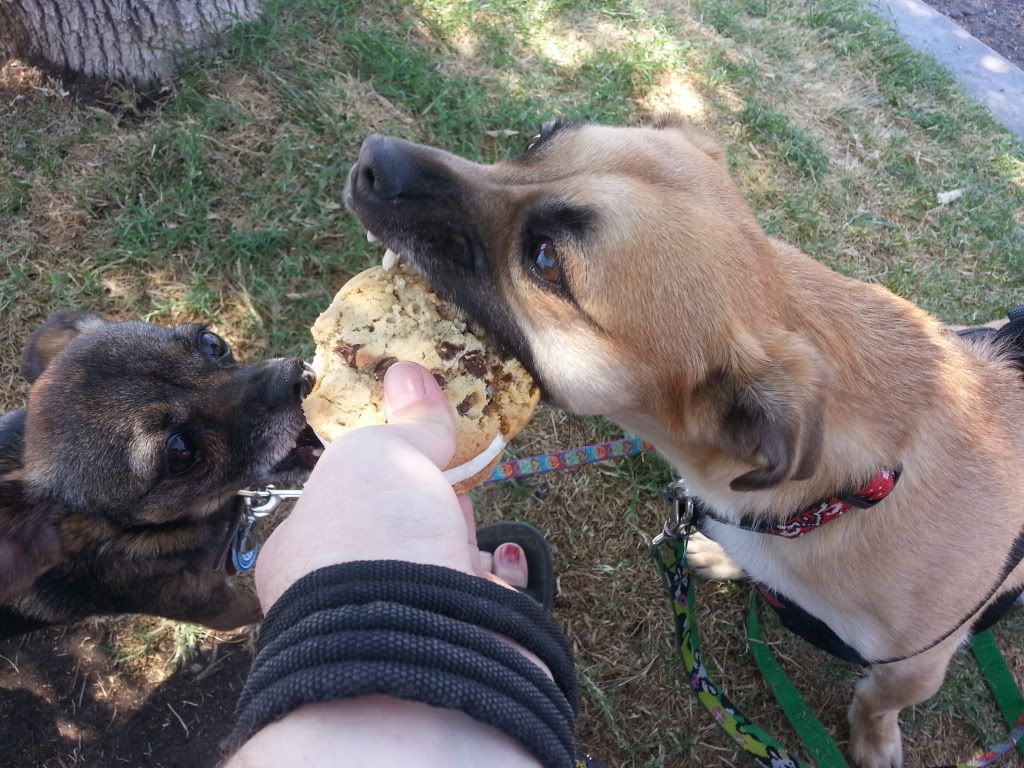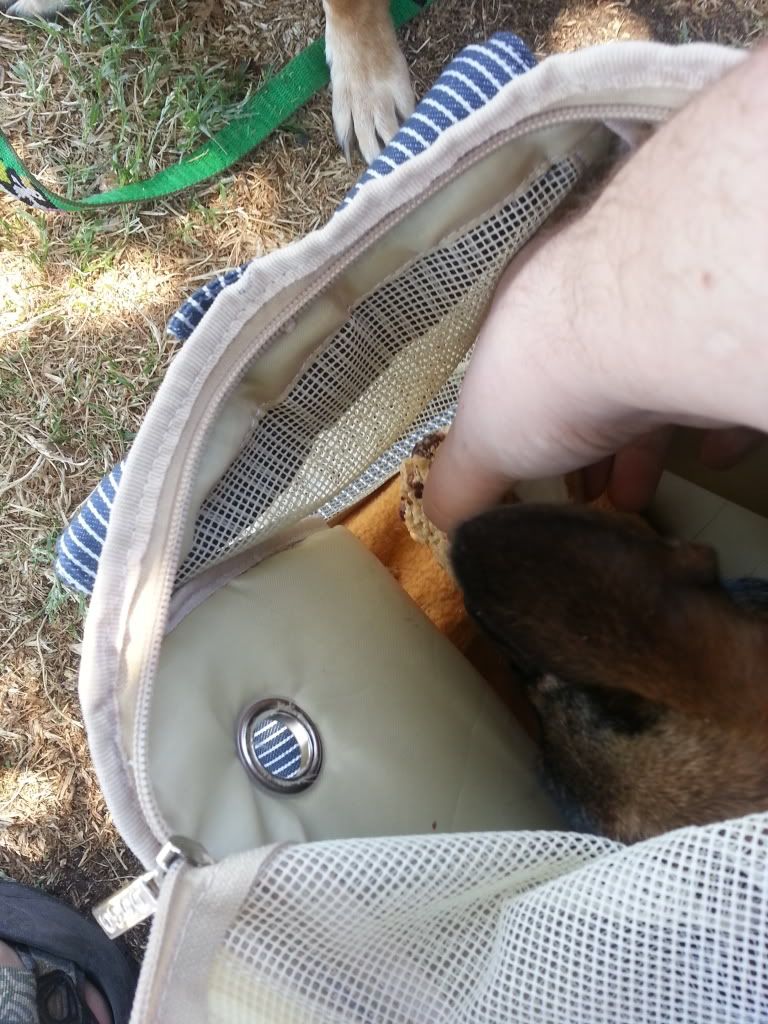 I admit this is not very healthy- and my dogs would not get ice cream every day. Also yes it is possible Copley ate a chip or two- but two milk chocolate chips are not going to kill him. Seeing as my dogs are not overweight and the ingredients in human grade vanilla ice cream are way better for you than a lot of the sugar and beef byproduct filled commercial dog treats out there I don't feel bad about giving it to them once a year at a hot gas station.
Here is the closest thing I got to both dogs looking at the camera this weekend. What can I say, there were a lot of chipmunks. Those bandanas are soaked in cedarwood oil for pest control. We don't have fleas, ticks, mosquitoes or really much of anything in the Vegas Valley so our dogs are not on any sort of topical preventative. Up in Big Bear this time of year there are not really many bugs either but there are a few so our holistic vet suggested using something like this. When we go to actual bug infested areas I am curious to see if it does anything. There is so little of a bug problem in Big Bear I can't really tell of cedarwood scented bandanas are at all effective.
To give you an idea of the landscape check out this shot from my first chair lift ride ever (girls from Miami don't ski- so I never had a real opportunity to ride one before). The dogs of course could not ride the chair lift but that was OK. They were pooped by the end of the weekend. Lots of new smells and animals and people to check out. Plus we did a lot of walking down to the fishing hole and looking at ducks. It was mostly just nice to get out of the heat. Now that we are back in this heatwave Vegas is looking at 116 degree highs for the next five days. The poor guys won't be leaving the house until at least the 5th!
Also one more thing- I am the featured blogger of the week on Pet Blogs United! Check out the post and all the other bloggers on PBU by clicking on the button-