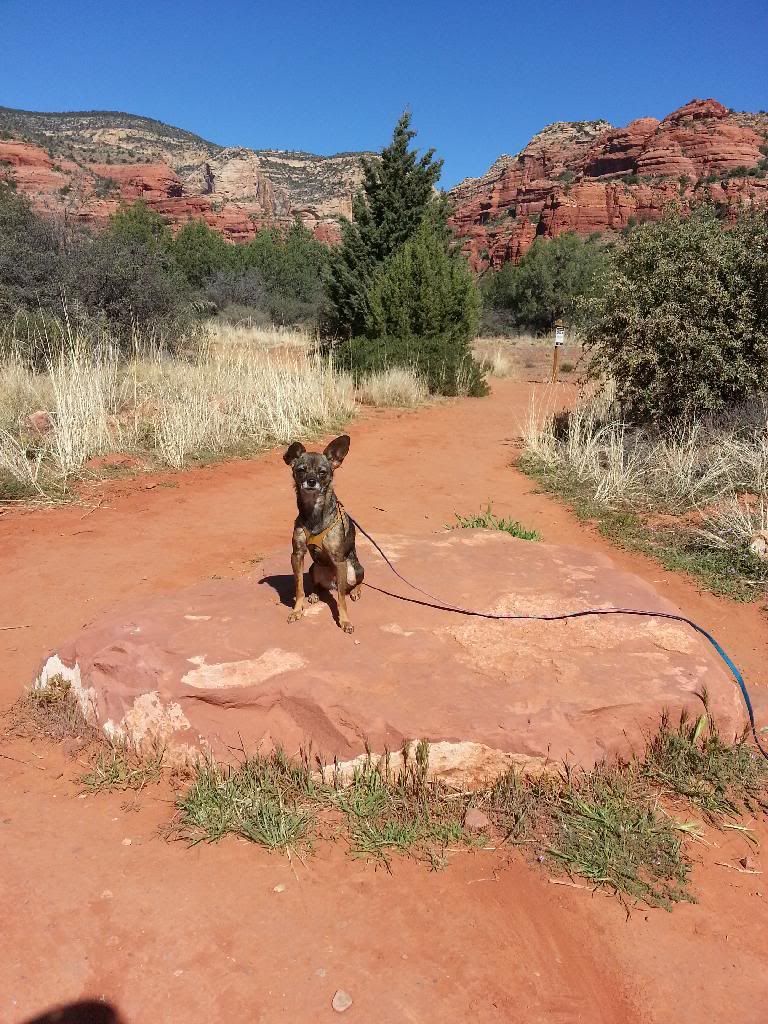 A few weeks ago Kerrigan, my Mom and I went on a trip to Sedona, AZ. It was a lot of fun, and very dog friendly! We stayed at a hotel called the
Sedona Real Inn
, and we give it 4 out of 5 paws up. The dog friendly rooms were on the ground floor, all tiled and they had an off leash park area with a grill, fire pit and plenty of grass so you could easily get some down time with your dogs. They also gave you a collapsible bowl, leash and a few biscuits when you checked in. I would count this hotel as one of the actually dog friendly ones out there, as opposed to the places that say they are dog friendly but you feel like the whole time they are just angry you brought a dog to the place. The staff was friendly too and the breakfast was delicious. The only reason I would not give this place a five paw stamp of approval is because they have no view whatsoever. Their website shows nothing but beautiful views of the red rocks, but it was just about the ONLY PLACE in the entire city of Sedona without a great view. They even have a post card in the room showing the hotel with a great view behind it- but neither me nor my Mom could figure out how they took that picture. Must have used a helicopter- because not a single room in that place had a gorgeous panoramic view from what we could tell.
We spent one day exploring the national forest and the little shops around town, then the other day we went on a little hike. The National Forest there is really nice, and very diverse. In the area around Sedona it is actually a forest, thick with trees and plenty of creeks. In the valley it was more of a desert terrain with lots of red rocks and rock formations. Expect to see plenty of cacti all mixed up with forests as evidenced by this picture of Kerri at the start of one of our hikes.
The town was very nice and a lot of the stores were dog friendly. We always had one of us wait outside with Kerri and went into the stores one at a time, but often the people in the shop would see that's what we were doing and invite us all right in. Kerri also attracted a lot of attention from chihuahua lovers- who seemed to be everywhere around Sedona. Several were amazed that I got such a small chi as a puppy from a shelter and I told those people if they are looking for a chi they should check out Las Vegas's kill shelter
The Animal Foundation
because they are literally packed full of them! It is just crazy to me that there are some places in this country where chis are the hottest dogs in shelters, all being adopted within hours of showing up and here in Las Vegas they are being euthanized by the hundreds. I wish that people would know what was going on and we could just get these dogs into the hands of the people who want them. To me it does not seem like a numbers problem, it is a marketing and transport problem. Maybe just a marketing one because most of these people in Sedona seemed to think it would even be worth the drive to Vegas to get a chihuahua. Anyway, I digress...
We ate at several restaurants with dog friendly outdoor patios. I had two favorites, one called Ken's Creekside actually had a dog menu with both cooked and raw food options. I ordered Kerrigan raw ground beef and an egg (I think they called it steak tartar). It came in a great dane sized bowl that Kerri literally had to climb into to eat, but other than that I thought it was great. I brought freeze dried food with me, and I probably could have gotten beef from the supermarket for cheaper, but it was just so convenient. The people food was great too. My Mom is a vegetarian and she ordered the vegan tomato soup and a hummus plate (they had a whole vegetarian menu available) and I had some pork ribs dressed up as buffalo wings. It was all fresh and delicious.
My favorite restaurant had to have been the first place we ate- Rene at Tlaquepaque. It was just delicious. Not often do you find great gourmet restaurants with local wines and fresh foods that also have a dog friendly patio, but this was for sure that. There was one other dog there (raw fed I believe- the movement is growing) and her people told us the pecan pie was to die for. I believe them but unfortunately we were too stuffed from pasta and duck to even think about desert.
We ate a few places without Kerrigan too, but honestly Kens and Rene were the best places we went to with or without a dog! Kerri was a real trooper, walking around all day, even getting up for the sunrise but at night she was just as pooped as the rest of us. Here is what it looked like both nights as soon as her head hit the pillow.
One warning I have about Sedona though- it is not Las Vegas! It was downright chilly there at night compared to Vegas. I thoguht we were going to the same climate in the next desert over but I ended up sorely unprepared. Kerri only had one sweater with her and she would have been much better off if we brought a few t-shirts and a few more sweaters for the humans. All was well in the end though, there was a fireplace in the room.
I'll leave you with a few more pictures of Kerrigan enjoying the sunrise and then our hike.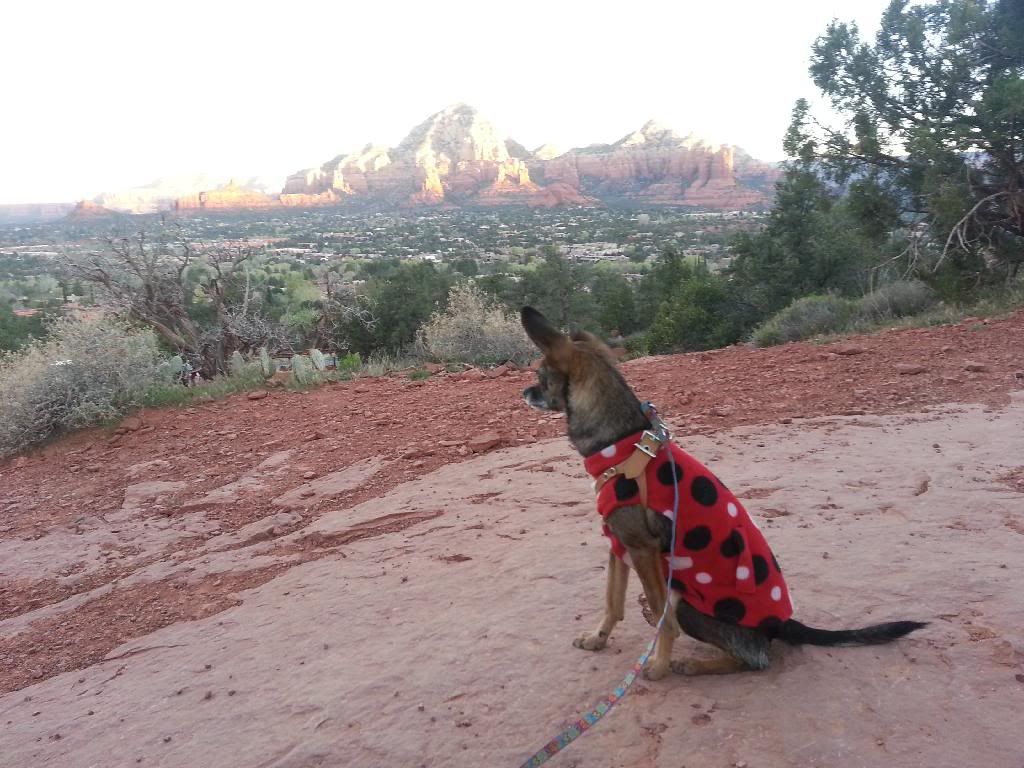 (P.S. If you don't already follow us on facebook please do.
Facebook.com/doginthedesert
)