The big guys hanging out in the backyard
A few days ago we had a few friends stay with us for two nights. I just love having dogs in and out of the house, seeing how mine interact with their friends and watching dog-dog interactions play out is fascinating and often hilarious. We had a pretty good weekend other than me thinking I could take the three biggest dogs for a walk by myself (my shoulder suffered there) and a tiny bit of grumpiness from Copley.
Our visitors were Mosby (
who you have met before
) and his new little brother Harvey! Mosby is a something- I believe the shelter said he was a GSD/bloodhound/pit... or something strange like that. Who knows but he is sure adorable. His new little brother is from the same high kill shelter and Mosby (and Kerri) and he is just ADORABLE. Here is a picture of him the day after he was adopted and a picture of him in our backyard while we were watching him 4 months later.
Since puppies growing up NEVER gets old here is another adorable set of comparision photos.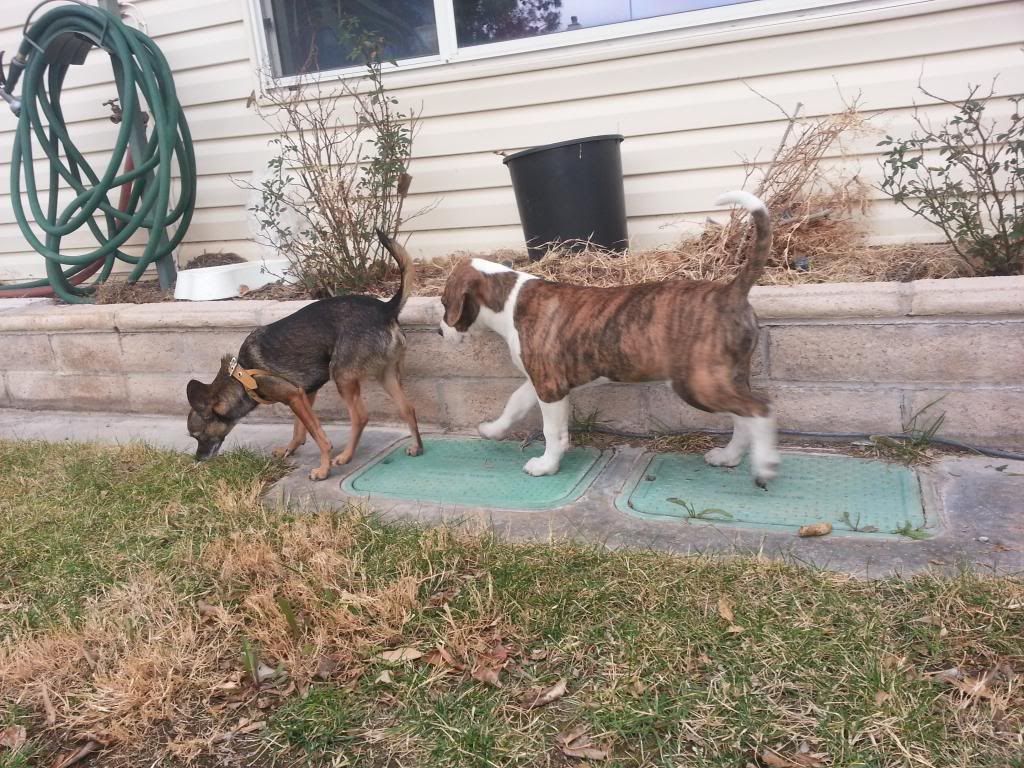 We had a great time hanging out with the big guys! Copley had a little bit of impatience but we worked through it. See Copley is really a stickler for good behavior when it comes to puppies. That is actually pretty good for most puppies and I tend to let Copley deal with them as long as he is being appropriate. For some reason his fuze is a little bit shorter with Harvey then usual so I do watch him closely. Harvey is still a baby in so many ways, and while he is super well behaved and a very, very good dog he has a habit of walking up to dogs and pawing them in the face. This is not something that Copley cares for and I did let him correct him for that and actually by the end of the weekend it was pretty cute. We saw a lot of behavior like this.
That would be Copley pretending that Harvey does not exist while Harvey slowly moves closer and closer to Copley without actually engaging him. Harvey got to the point where he was actually touching Copley and Copley just sighed and went back to sleep so that was a win. We then moved onto the more active begging on the part of Harvey.
That picture is more of the whining and licking and active please play with me. To my surprise Copley did finally play with both the big guys so I guess Harvey won him over. He seemed to discover that as long as he kept his paws out of Copley's face they could have a good time together. It is really just fun to see two stable, well behaved dogs interact like dogs, deal with their minor issues and then turn into friends. All closely supervised of course.
Speaking of dogs dealing with each other take a look at these two pictures of my brave little Nova. She was incredibly well behaved and much more relaxed than when we have had dog guests before. I don't force her to interact with anyone but she does a good job of just living near them. This would not have been possible even 6 months ago.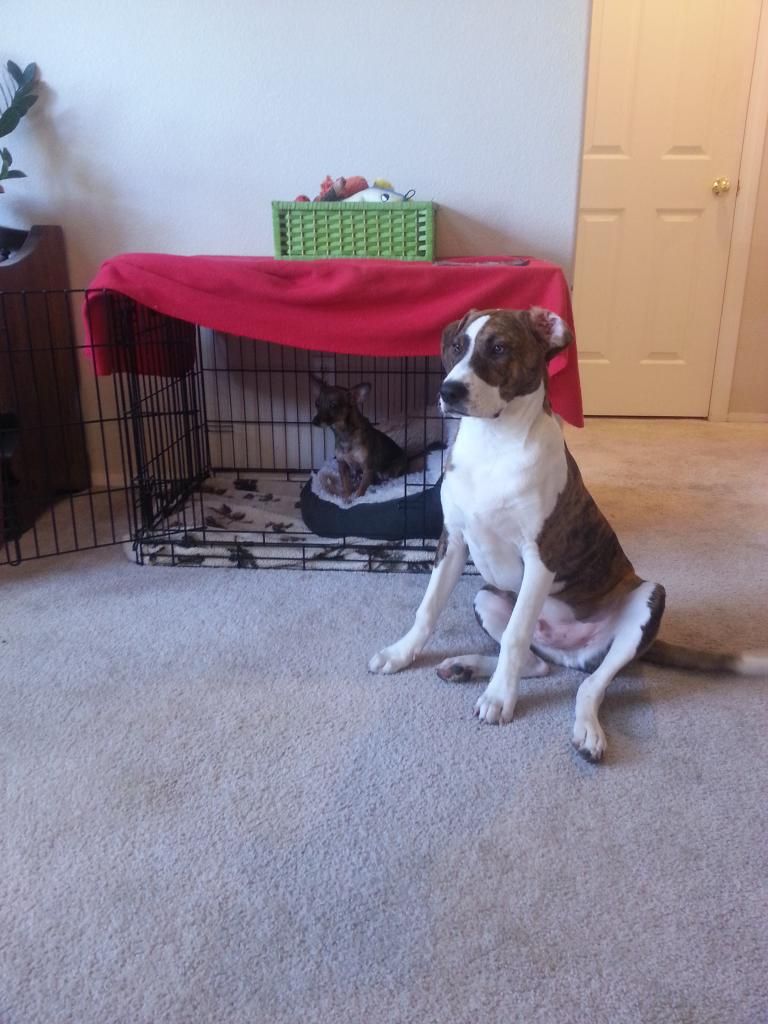 Finally I leave you with our dinner picture. It is just so easy (compared to fostering at least) to dog sit two raw fed, well behaved dogs. To my pleasant suprise everyone sat very patiently waiting for their dinner. Thanks to 5 dogs all obedience trained dinner was not a zoo, it was a calm and relatively easy event.
I have to say though, I am glad my dogs are so small that I can pick them all up at the same time, put them all in one medium crate in the car and feed them a total of 1lb of food a day. Just so many advantages of having chihuahuas, I think I'll be sticking to my little guys!